Ok… I know I'm not the first one to think of this. Although I have had this idea since I built my 67 SWB 4x4 way back in 1980. I could never bring myself to cut up the 67 since it is more of a family member than a possession.
I know there are more of you out there that have thought of taking on this project, but either the means, resources or round-tuit, have just not all come up at the same time.
I have seen a few of these projects…. Bump trucks put on a bronco frame, Bump skins welded to newer bronco bodies. But none the way
I
would do it.
My goal is to make this truck look like one Ford would have built. (Proto type?)
1969 Ford full size Bronco, 2WD
.


I know.. I know, Broncos are suppose to be 4WD, but I have enough 4x4's and only one 2WD.
So... I would like you to meet the truck:
1969 F-100 Ranger, 2WD 360 A/T LWB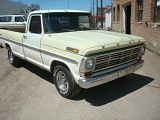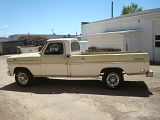 And to be assimilated:
1979 Bronco Ranger XLT w/trailering package. 4x4 400M A/T Dealer Air (lots of nice candy)