New Member

Posts: 69
Joined: Fri May 12, 2006 8:42 am
Location: Mesquite, Texas
How long before he gets to drive your truck.

Congrats popa








333 is tatooed on my head. I'm only half evil.
Aubrey

More pictures of Buellah at
http://s94.photobucket.com/albums/l108/ ... h_69_Ford/
---
100% FORDified!

Posts: 1591
Joined: Wed Jun 14, 2006 7:28 am
Location: Hamburg, NJ
Awesome, congrats!


Having kids is the best thing you will
ever
do!!!
They do grow up fast, my son turned 11 two weeks ago. Before I know it he'll be asking for the keys to the bumpside.



Before you know it
your son
will be asking for the keys to the bumpside.



Congrats again to you and the Mrs.

John
Member #1549
71 F100 Sport Custom

__________

1967 F350 Gone, but not forgotten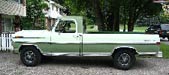 ---
New Member

Posts: 171
Joined: Mon Jun 19, 2006 10:06 am
Location: Virginia
congrats dude,
they are alot of fun and work.
i have a 3 year old, and one on the way 4 months. i cant wait. my little girl is daddy's girl. she already get greasy with me when i work on my bug and my truck.


[URL=http://www.mybannermaker.com/link.php?nurl=http%3A%2F%2Fwww.mybannermaker.com]
[/URL
---
Blue Oval Fanatic

Posts: 947
Joined: Mon Dec 20, 2004 10:29 pm
Location: Washington, Centralia
Contact:
Here is the page the hospital put up, complete with a rather crappy pic.

http://www.newbabynews.net/hospitals/cen19/public/cen19birthannouncement.pl?babyID=h19-1255
---
Blue Oval Guru

Posts: 1126
Joined: Fri Mar 25, 2005 10:03 pm
Location: Nevada, Las Vegas
Contact:

Very exciting, always nice to see a new little one.

---
New Member

Posts: 247
Joined: Mon Jan 10, 2005 7:59 pm
Location: New Hampshire, Derry
C'mon Aaron,
There are no such things as ***** pics of babies. Just ***** diapers that make them make the funny faces.



http://www.fordification.com/galleries/ ... p?pos=-550
1996 F250 Slightly lifted 7.3L Diesel
1961 Falcon Ranchero 144 Inline 6
---
---
Preferred User

Posts: 468
Joined: Fri Dec 30, 2005 7:23 pm
Location: Texas
Congratulations to you and your wife.
---
100% FORDified!

Posts: 3715
Joined: Sun Apr 17, 2005 1:09 am
Location: Missouri, Webb City
Contact:
Way to go Redcap. Pics please!
"It is better to keep your mouth shut and appear stupid than to open it and remove all doubt." - Mark Twain
'70 f250 4x4 Crew cab 460/C6 '72 F100 390/C6 9.8 MPG AVG. '89 Mercury Cougar LS Dual Exh. V6 . 18.9 MPG AVG. In Town.

I don't want to give em a heart-attack. That is what would happen if I answered the door in the buff. Heck it almost scares me to death when I step out of the shower and look in the mirror.~Mancar1~
fuelly.com
---
100% FORDified!

Posts: 1819
Joined: Sat Feb 18, 2006 1:34 pm
Location: New York, Crugers
Contact:
Shares his birthday with "W"...... I will make no political statement. Congrats and the best of luck with your new hobby. I hope your truck doesn't get jealous.
---
Blue Oval Guru

Posts: 1089
Joined: Wed Mar 22, 2006 2:32 pm
Location: Georgia, Commerce
Congrats on your son being born. Mine was just born January 28th of this year.
---
New Member

Posts: 101
Joined: Thu Jul 06, 2006 10:20 am
Location: Kansas, Goodland
Congrads!!!!! I have one on the way. Should be here around the first of nov.
Get-R-Done
71 F100 Sport Custom
99 F250 Powerstroke
---
New Member

Posts: 230
Joined: Tue Apr 05, 2005 9:03 pm
Location: Massachusetts, Cape Cod
---
---
Who is online
Users browsing this forum: No registered users