Good evening!
Well, it only took me a little over two years to get started on installing the mat! All I need to do is install the two aluminum trim pieces and it'll be done.
First, I let it soak up some rays to make it easier to handle: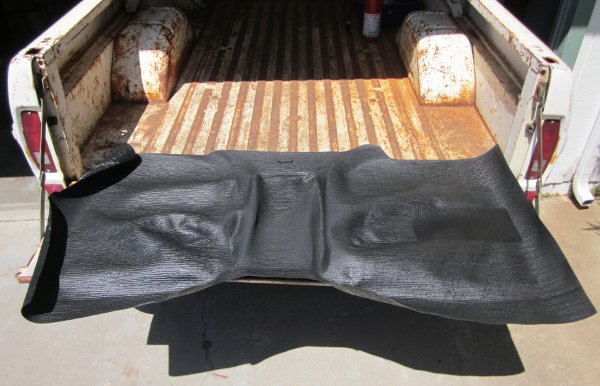 I fought with the mat for a long while until I got it sitting approximately where I figured it would want to rest. I had to lift up on the firewall insulation sheet to get it to poke under there, but it clearly wasn't possible to do the same type of thing with the clutch rod and headlight dimmer switch.
Then I marked on top of the mat with a Japanese paint-pen, and boldly cut away!!!
I'm really happy with the dimmer switch area (left). I probably could have done better with the clutch rod (right), but it won't keep me up at night.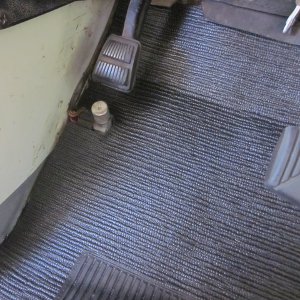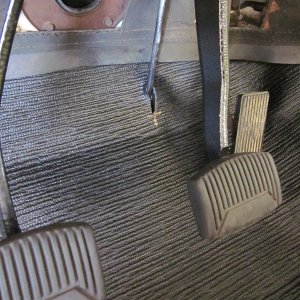 I'd removed the shift cane and taped over the top plate hole before setting the mat in there, so it was easy to feel on the mat to locate the top plate opening. I drew a circle there, and cut it out with a razor. It was a lot easier to cut through than I thought it would be, maybe because I'd warmed it up pretty well first.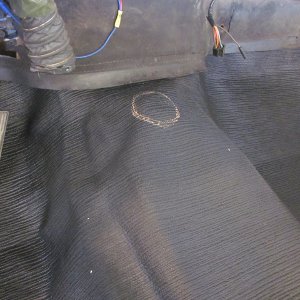 I installed the rubber boot over the mat, since I wasn't sure whether it was supposed to be mounted under it, or over it. With it mounted on top, it makes the shift cane more serviceable, since it's still easy to remove it that way without having to pull the mat out first.
Overall I'm still really impressed with this mat. The fit was very good, and it looks like over time it'll settle down and look 100% at home in there. And it smells GREAT!
I'll take some better photos this coming weekend and put them up!
Thanks for all the excellent advice!
Robroy