TSB #52 - December 2, 1966
(All W Series)
---
Failure of the transistorized voltage regulator due to water entry through the wire grommet, has been traced to the method of mounting the regulator. The regulator is mounted with the wire grommet on the top which may allow water to enter the regulator and render it inoperative. The failure of the regulator will cause loss of the charging system which will result in discharge of the batteries and subsequent inability to start the vehicle. Units built since July 13, 1966 have the regulator inverted and should not exhibit the problem.
To correct this problem the regulator can be rotated 180° using two of the three existing mounting studs. The three stud terminal strip will require repositioning also.
The illustration shows the revised regulator position in relation to the original position and can be performed in the following manner on a complaint basis:
1. Disconnect battery.
2. Remove louvered panel at front of cat right side.
3. Disconnect plug and remove regulator.
4. Remove terminal mounting screws and seal holes to prevent water entry.
5. Rotate regulator so that the wires are at the bottom and mount, using the middle and top studs (NOTE: Bottom stud not used).
6. Remount terminal strip to clear regulator.
7. Reconnect and install all wires as shown in Illus. S1153-A.
8. Reconnect battery and install cover panel.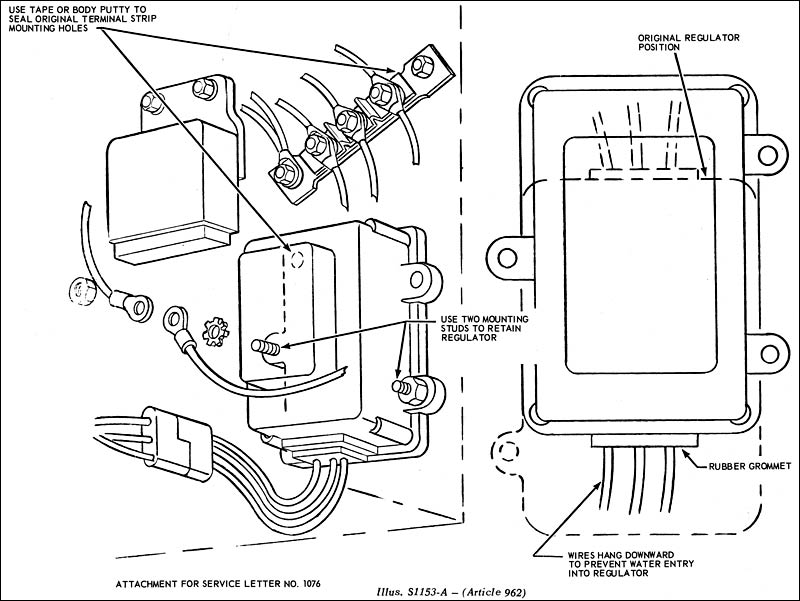 WARRANTY STATUS
- REIMBURSABLE
Oper: SP-10505-A-67
Time: 0.6 hrs.