TSB #51 - November 18, 1966
(1961-1966 Econolines)
---
Reports from the field indicate that 1961 thru 1966 Econoline front doors may develop fatigue cracks in the inner and outer panels at the belt. These cracks originate at (1) the inner and outer belt weatherstrip front attaching clip slot, (2) around the tabs which secure the inner panel to the outer panel under the vent window, and (3) at a sharp radius where the inner panel vertical flange is abruptly reduced in length in the proximity of the vent window pivot.
If dealers are confronted with customer complaints of cracks in either the front door inner or outer panels, both panels should be repaired and reinforced as follows:
1. Remove the vent window and door window glass (Refer to Shop Manual).
2. Carefully remove the belt weatherstrips.
3. Procure 1/2" I.D. steel tubing such as electrical conduit. A total length of 27" is required for each door to be repaired.
4. Cut a 12" piece for the outer door panel and a 15 " piece for the inner door panel (each door).
5. Slightly flatten the tubing and bend to fit the door panel as shown in the illustration (approximately 7/8 " x 7/16" O.D. elliptical shape).
6. Position the tubing as shown in the illustration and mark the location of the belt weatherstrip attaching clip slots on the tubing. Use a grinder to make clearance openings for the belt weatherstrip clips.
7. Mark the position of the tubing on the door panels. Within these marks, drill 3/16" diameter welding access holes at 1-1/2" intervals along the top surface of the door inner and outer panels (See Illus. S1144-A, Section A-A).
8. Hold the tubing in position with a "C clamp and puddle weld the tubing to the door panels (Refer to illustration).
9. Metal finish the outer surface of the door panels, and prime and paint as required to restore original finish. (See special note on time for sheet metal finishing).
10. Reassemble the vent window and door window glass (Refer to Shop Manual).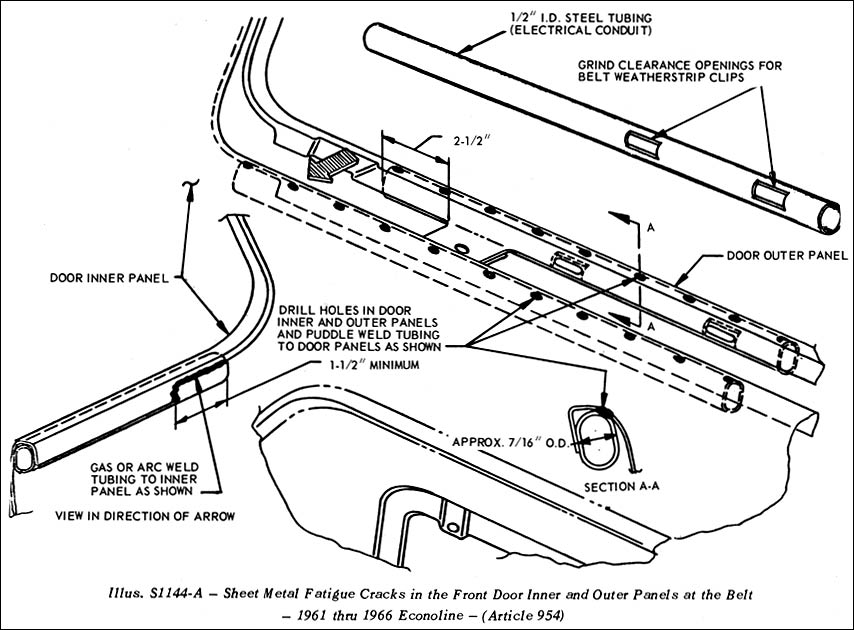 WARRANTY STATUS -
REIMBURSABLE IN ACCORDANCE WITH THE W & P MANUAL.
Oper: SP-21410-A-66
Time: 2.8 hrs. for one door (excluding sheet metal finishing)


NOTE:

Clock time should be applied for metal finishing (average time 2 firs, per door). The indicated time includes painting to restore original finish
.