Article 2009 - Improper Park Position of L.H. Windshield Wiper Arm Assembly

Posted:
Sun Jan 25, 2009 6:23 pm
TSB #127 - November 21, 1969
(1970 Fairlane)
---
It has been noted that on a few 1970 Fairlane vehicles, the left hand windshield wiper arm will not park in the specified design position after wiper operation.
If necessary, vehicles built prior to August 15, 1969 can be corrected by reworking the pivot drive head as shown in Figure 5.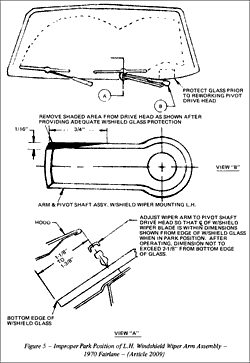 Figure 5
- Click to enlarge
WARRANTY STATUS:
Reimbursable under the provisions of the Warranty and Policy Manual.
Operation: SP-17526-A-70
Time: 0.3 Hr.
DLR. CODING: Basic Part No. 17566 - Code No. 07