TSB #10 - January 28, 1972
(1971-72 Ford, Mercury)
---
A rattle or rubbing noise at the rear seat back panel extension may be due to the #3 body mount stud grounding out on the rear seat back extension.
Correct as follows:
1. Remove the rear seat cushions.
2. Remove the two bolts that secure the seat back panel extension to the floor pan and move the extension up off of the #3 body mount. Check the bottom of the extension for indications that the body mount stud is grounding out. See Fig. 1.
3. Move floor carpet away from body mount. Check rubber plug over body mount and floor carpet for worn condition. See Fig. 1.
4. If the body mount stud is grounding out on the seat back extension, shim the seat back extension using a 1/8" thick washer (3/16" max.) under the extension at each mounting bolt location.
5. If the rubber hole plug is worn, replace with a new plug and install over body mount. Position shim washers over extension bolt holes. Place floor carpet in position. Place seat support extension in position over body mount, being careful not to disturb washer shims, and install bolts. Torque bolts to 15-28 ft. lbs.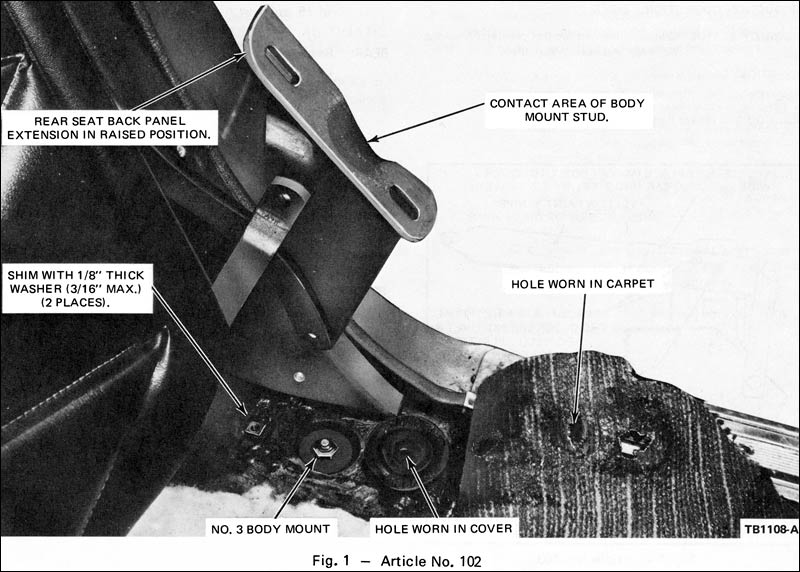 PRODUCTION CORRECTION: 11/15/71
WARRANTY STATUS:
Reimbursable within the provisions of the Warranty and Policy Manual.
OPERATION: SP-60082-A-72
TIME: 0.4 Hr. (One Side) 0.6 Hr. (Both Sides)
DLR. CODING: Basic Part No. 7060508 - Code 56