TSB #10 - January 28, 1972
(1971 Capri)
---
An alternator whine audible through the radio may occur on some early produced vehicles equipped with a Lucas alternator.
NOTE:
In production a capacitor is being installed by Lucas, to the 17ACR alternators and is identified with a suffix "B" stamped on a metal identification tag attached to the alternator housing (see Fig. 3).
The whine can be eliminated by installing a radio capacitor kit. Part No. D1RY-18832-B as outlined below:
1. Disconnect the multiplug from the alternator rear plastic housing.
2. Remove the two bolts retaining the plastic housing. Remove the housing.
3. Using a small screwdriver, pry out the polyethylene blanking plug located in the alternator main body.
4. Insert the capacitor into the hole. Secure it with the screw and connect the capacitor wire to the unused terminal on the side of the rectifier pack as shown in Fig. 3.
5. Install the rear plastic cover. Secure it in position with the two bolts.
6. Reconnect the multiplug.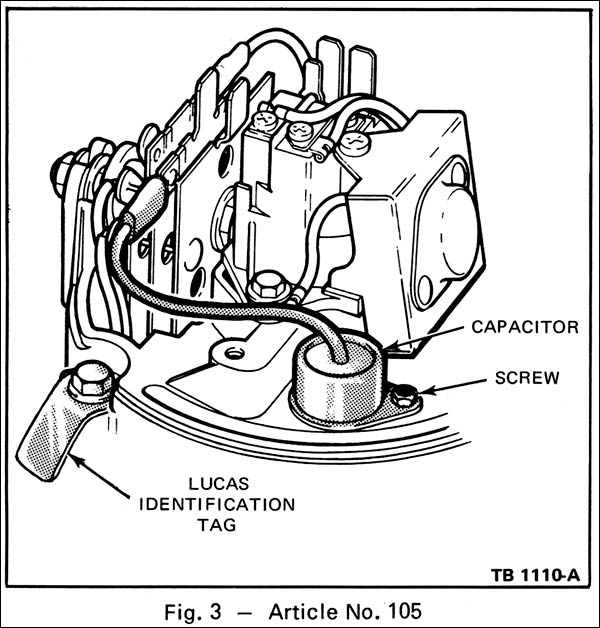 | PART NO. | PART NAME | CLASS |
| --- | --- | --- |
| D1RY-18832-B | Capacitor — Kit (consists of capacitor and screw) | C |
PRODUCTION CORRECTION: 10/1/71
WARRANTY STATUS:
Reimbursable within the provisions of the Warranty and Policy Manual.
OPERATION: SP-10380-A-71
TIME: 0.5 hr.
DLR. CODING: Basic Part No. 10380 - Code 39